With changing climates and new weather patterns, an increasing range of airports and airlines are counting themselves in the "snow belt." Airlines are expected to keep running despite inclement weather but sometimes meltdowns occur and some airports fail to cope.
The question is largely whether it makes sense for an airport that might only see one or two snowfalls a year to invest in an expensive fleet of equipment. But it's also about preparation and being strategic with the equipment and resources an airport or an airline has at hand.
THE DE-ICING SEASON

Pekka Lappi, Finnair's Process Owner for De-icing and Fuel Operations — whose name appropriately enough means "Lapland" in Finnish — explains that Finnair is so well prepared that it doesn't even make specific scheduling changes for winter weather.
Officially, the de-icing season at HEL airport starts on September 1, but typically de-icing season starts when we start getting night frost, and the overnighting aircraft needs to be defrosted in the morning before it departs.
Every year, before the winter season begins, the airline performs quality checks to ensure that all the de-icing fluids meet the specifications.
All fluid storages and de-icing trucks go through maintenance during the summer season. These facilities are managed by our subcontractors. At HEL airport we have 30 de-icing trucks in use, and during the high season for deicing we have more than half a million litres of deicing fluids in storage, to ensure we are prepared for any situation.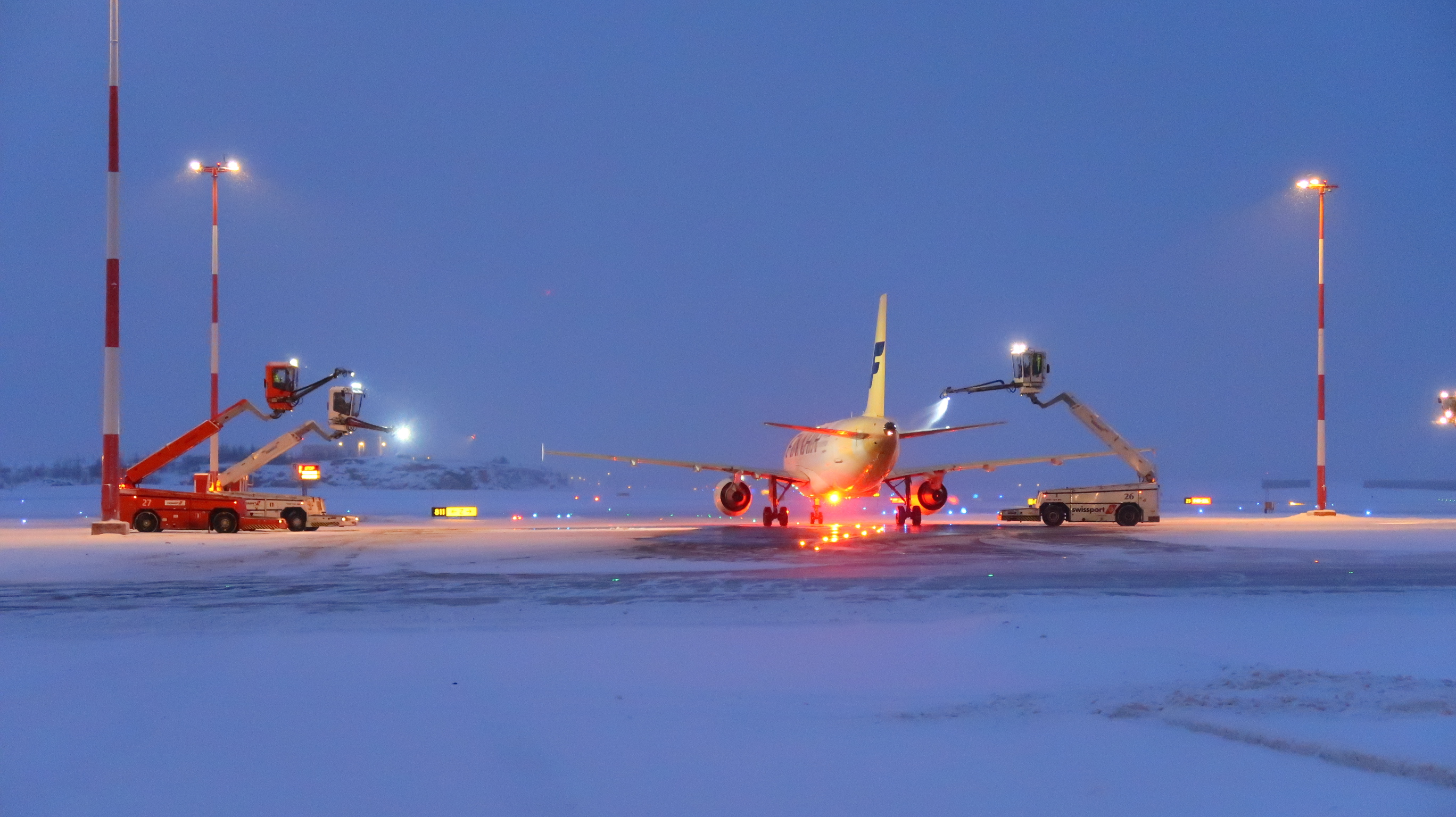 De-icing is done away from the gates, sort of like a racecar pit stop, at the end of the taxiway immediately before the runway. Four de-icing trucks work on the same aircraft at once. Depending on the weather conditions, intensity of snow — and of course aircraft size — de-icing a single aircraft can take between one and fifteen minutes.
Starting on September 1, we monitor the weather extra carefully 24/7 for all our destinations, and work in close cooperation with the airport operator Finavia at our home hub Helsinki and on other Finnish airports to ensure smooth operations also during days of heavy snowfall.
Those flight operations, says Marko Valtonen, Fleet Chief Pilot for the A350, are remarkably similar throughout the year:
Walkarounds and checks are the same. But in winter time pilots pay more attention to winter specific phenomena and checks if there are any accumulation of frost, ice or snow — for example in engines, flight control surfaces and landing gear. Also, special care is taken to check runway and taxiway conditions.
FINNAIR'S PEOPLE ALSO GET ICE-PROOF

Finnair keeps special anti-slip pads in the flight deck for pilots to use during their walkaround checks, and briefing material is updated for winter operations as well. Crews also have a wide range of gear including numerous types of scarf, coats and capes — as well as the signature Finnair black gloves.
To help them brave the elements between the warm cabin and sub-zero outdoors, explains inflight supervisor Katja Podduikin,
Cabin crew members are protected from cold weather conditions with warm outerwear, such as a cardigan under the jacket, long winter coat or woolen cape. Most of the cabin crew members wear the cape during crisp autumn and early spring days.
Not every airport needs to be as well prepared as Helsinki, and not every airline as well prepared as Finnair. But having a plan is crucial when cameraphone-wielding passengers' expectations are that flights will continue to operate during the winter, and that airports and airlines will be able to cope with the disruption caused. Too often, the problem isn't that flights can't operate: it's that staff can't get to work, equipment isn't rated for the cold that is the new normal, passenger ground operations aren't prepared for terminals full of disrupted passengers, and communications aren't up to the job of keeping people informed.
Winter is coming: but only some of these problems are the result of the weather. Many of them — even most — are just down to planning and preparedness.