When India's fourth busiest airport considered how to reduce its energy costs it opted for a solar solution. Cochin International Airport in Kerala became the world's first fully solar-powered airport in 2015 and was chosen to receive a UN Champion of Earth Prize in 2018.
Dubbed India's "greenport," it is powered by units above or across a variety of locations, including terminals, cargo premises, maintenance hangars, a car park and a canal. The surrounding land is also utilized, with vegetables grown below and between panels. It even has a solar "carport" with charging nodes for electric vehicles.
GREEN THINKING

Every year, approximately 10 million people pass through Cochin Airport, which encompasses an area of around 1,300 acres. Owned and operated by Cochin International Airport Ltd (C.I.A.L.), it was the country's first airport built under public-private partnership.
Mr. V. J. Kurian, Founder Managing Director, explains why it wanted to become power neutral:
As the airport operates 24-seven, the power bill was very high, so the management had to prioritize alternative thinking. We decided to adhere to a green and sustainable model of infrastructure development, which would also send out a message to the world.
BRINGING BENEFITS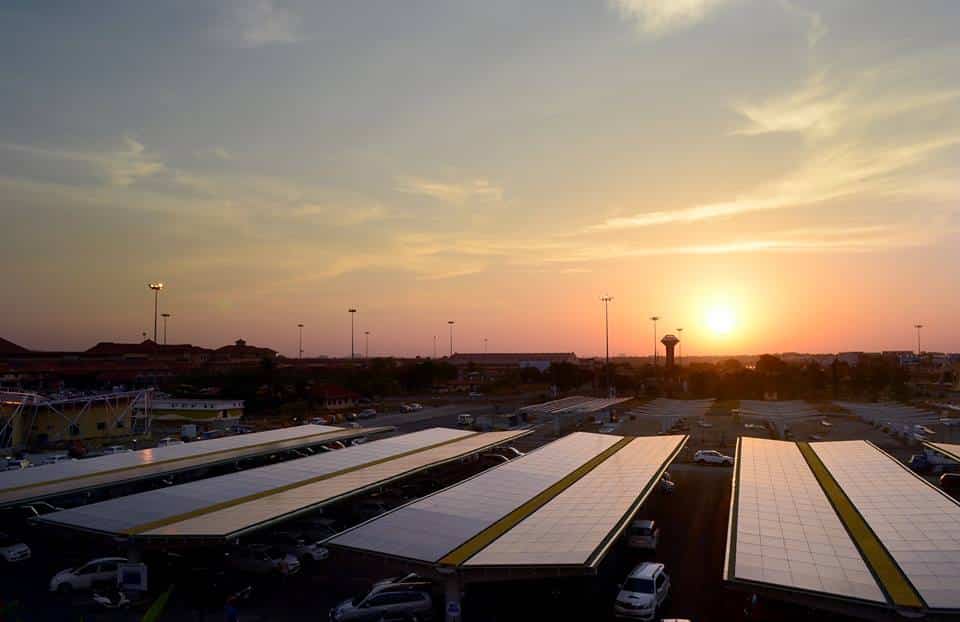 In 2013, C.I.A.L. experimented with an 100KW solar power plant – by April 2018, this had been scaled up to 40MW. Today it has a grid-connected system and a power banking system with Kerala State Electricity Board.
Current ongoing development, says Mr. Kurian, will bring the airport a power potential of 60MW. This will result in savings of approximately €5 million per year and cuts to CO2 emissions of more than 900,000 metric tons over the next 25 years.
Since its inception, the airport has also been performing a pivotal role in scaling up the standard of living of the people who live in the area. Kerala is a state which faces problems like unemployment and power shortages, our many initiatives have helped to ease those.
MAJORS SCHEMES

Airports around the world are increasingly turning to solar, according to Holly Louise Stower of the UK's Solar Trade Association.
With huge roofs, excess land and high energy demands, it makes perfect sense.Several of our members have been involved in delivering major schemes at Heathrow, Gatwick, Southend and Belfast International, for example. Indianapolis International Airport in the U.S.A. even utilizes the land between runways for a huge 20MW ground-mounted solar array. These panels track the sun to maximise power conversion.
Simon Mueller, who heads up the System Integration of Renewables Unit at the International Energy Agency, suggests solar should be capable of meeting the electricity demands of an airport similarly to any commercial building with a large roof.
Airports have high energy requirements however from offices, shops and air-conditioning, plus the extra consumption of luggage handling and security screening systems. But, he adds:
I would expect that large solar P.V. systems that cover most of the available roof surface could provide for a sizable proportion of demand.
LOOKING AHEAD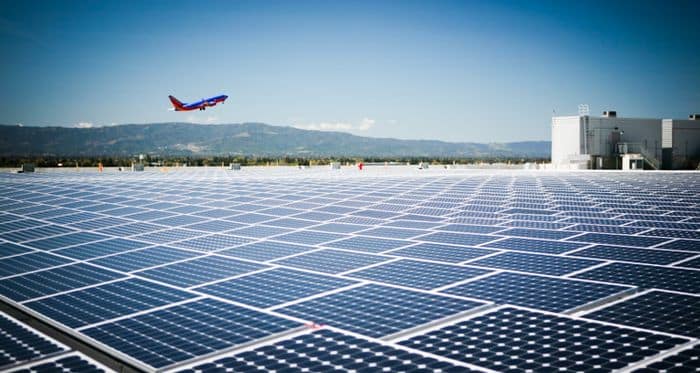 Jamie Taylor, Senior Data Scientist at Sheffield Solar, the U.K. photovoltaic industry's leading scientific data resource, suggests national policy may determine growth.
Financial incentives and subsidies do make a difference but, then again, they are not future proof as they cannot go on indefinitely. If electricity generated can be sold for profit that will make a difference – and the aviation industry should be keen to move further in this direction to help with overall carbon reduction targets.
He believes that short of powering everything from nuclear, there will be no alternative but to employ more renewables in the future; that will include an increased reliance on solar for everything, including airports.
Ms. Stower says:
Cochin is a great example of how solar can power almost everything at an airport – what has yet to be cracked is passenger planes.
But, she adds:
Norway has a target to make all internal flights electric by 2040 and indeed their Transport Minister recently took a short flight in a two-seat electric plane around Oslo to highlight their plans. Solar and battery technology is moving so fast we may yet be surprised by how quickly commercial flights happen.